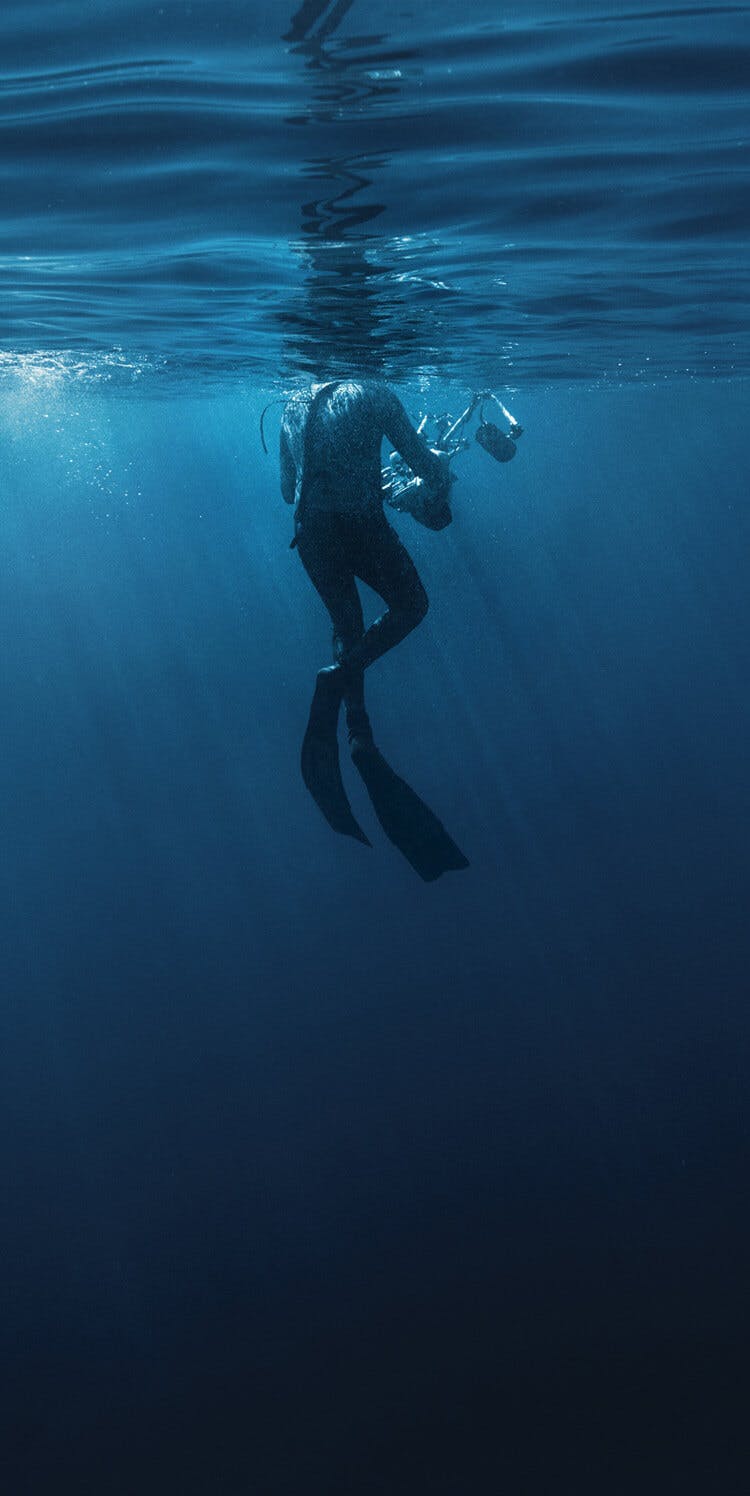 An underwater
expedition
Blessed with warm, clear water and abundant marine life, the Red Sea is an exquisite diving destination. This is especially true at AMAALA, where exceptional reefs flourish. We invited Tobias Friedrich, a renowned underwater photographer, to take a first look at what lies beneath the crystal blue surface. Over several days, the team had the privilege of exploring more than eight diving sites, with many more remaining to be discovered. The explorer
Meet Tobias
Friedrich
Since his childhood, which was spent absorbed in the adventures of Jacques-Yves Cousteau, Tobias has been captivated by the underwater world. When he learnt to dive, his first instinct was to start taking pictures so he could "show the world the beauty of the ocean and show what we must protect". His images have since been published far and wide, and his work honoured at several photographic competitions.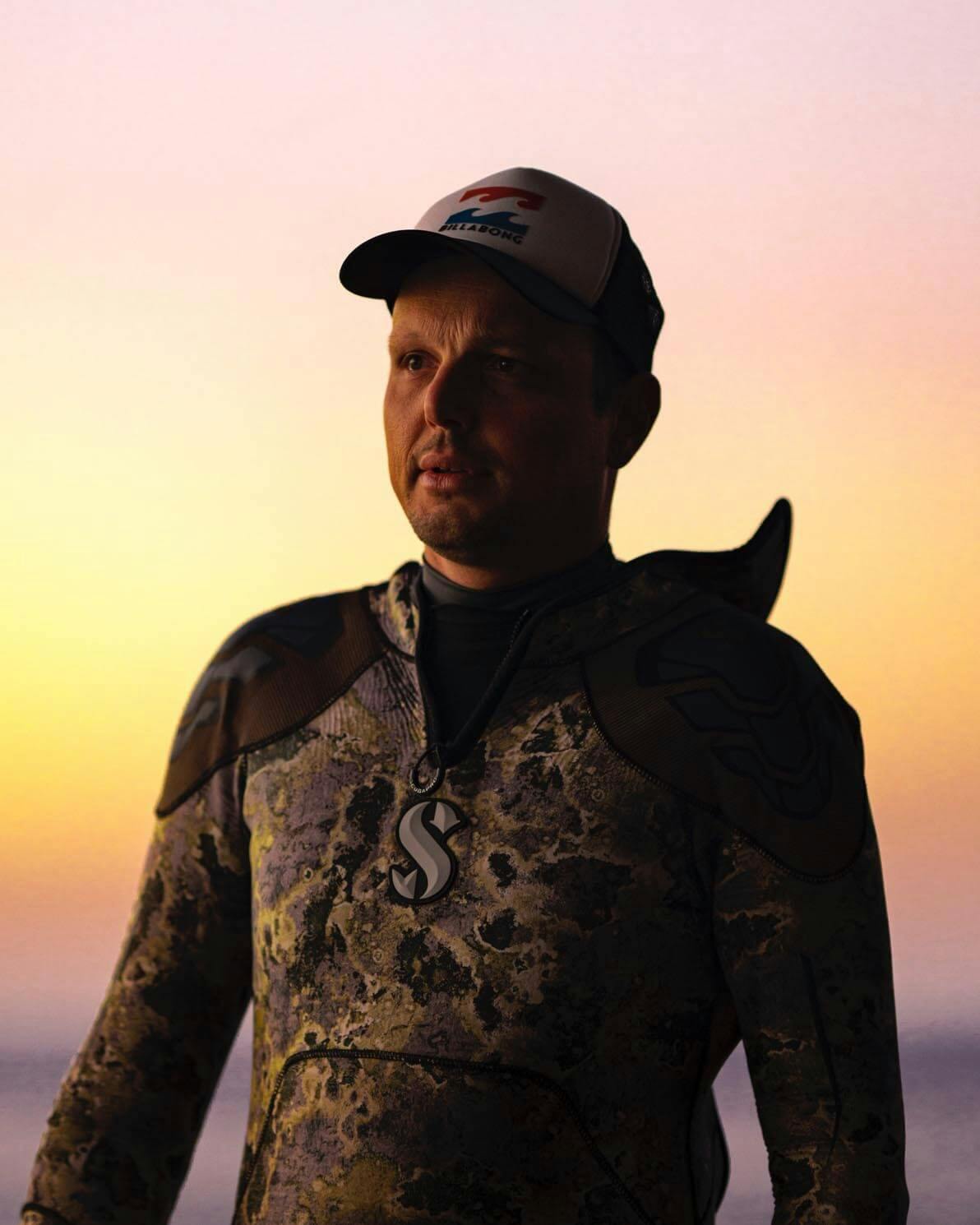 "Here at AMAALA, the diving is a magical experience. The reefs are vibrant, the hard coral gardens are really fascinating, there's so much healthy coral in one spot - very few places in the world have that." CHAPTER ONE
A natural marine ecosystem
"The drive to Triple Bay was otherworldly, the landscape moonlike in its spartan beauty. After some final preparations and a team briefing, we were ready for our first look underwater. An abundance of healthy coral made it clear we were diving in an exceptional location - something I had never experienced before.

We do some lighting tests and get some first shots. The stars are so bright that half the team decide to sleep on deck, just to drink them in."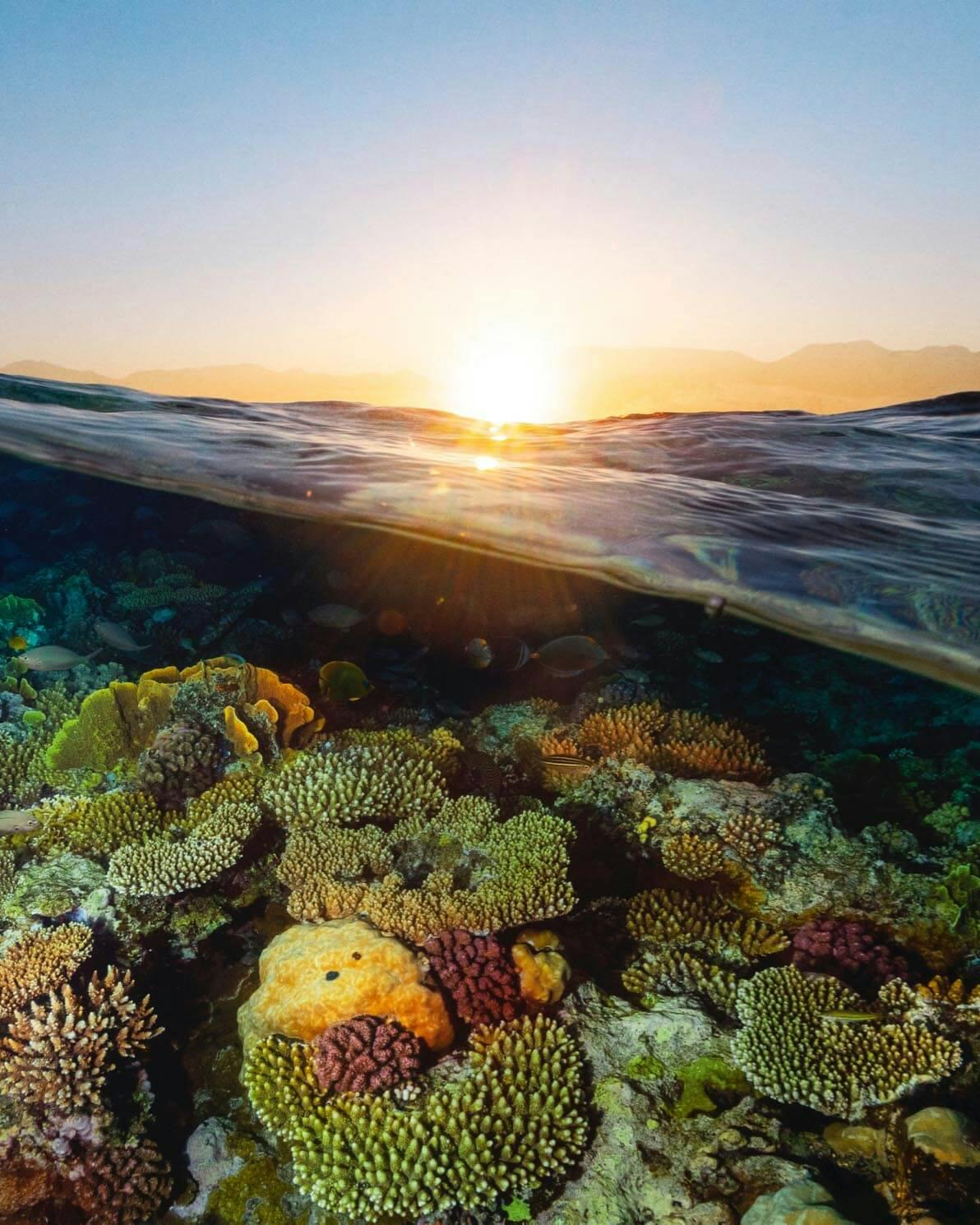 Wildlife

Native fish, sharks
CHAPTER TWO
Incredible coral formations
"We wake with the sun and do a recce dive. We'll dive twice more on this day, finding fascinating hard coral gardens and schools of native fish.

Our final dive is at sunset as the sunbeams pierce the surface reflecting off the coral. Magic."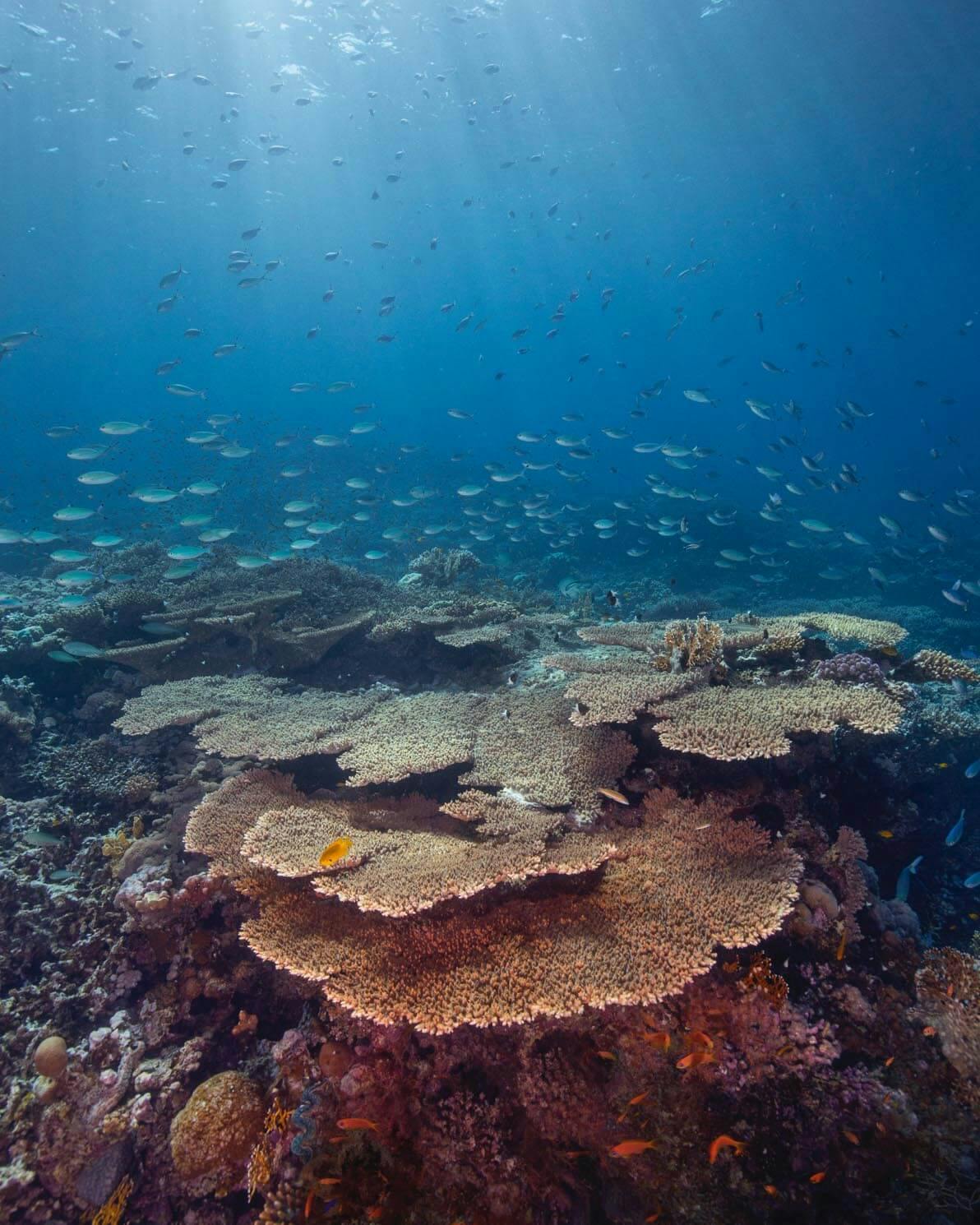 Wildlife

Endemic reef fish

Coral

Abundant hard corals
CHAPTER THREE
Lush with Life
CHAPTER THREE
An abundance of marine life
"Today we discovered an incredible coral reef surrounding a sandy lagoon with crystalline blue water - so clear it's like a swimming pool in the ocean.

We weren't the only ones taken with the site; spotted dolphins, reef sharks, and rays could all be found enjoying the reef. A great day of diving."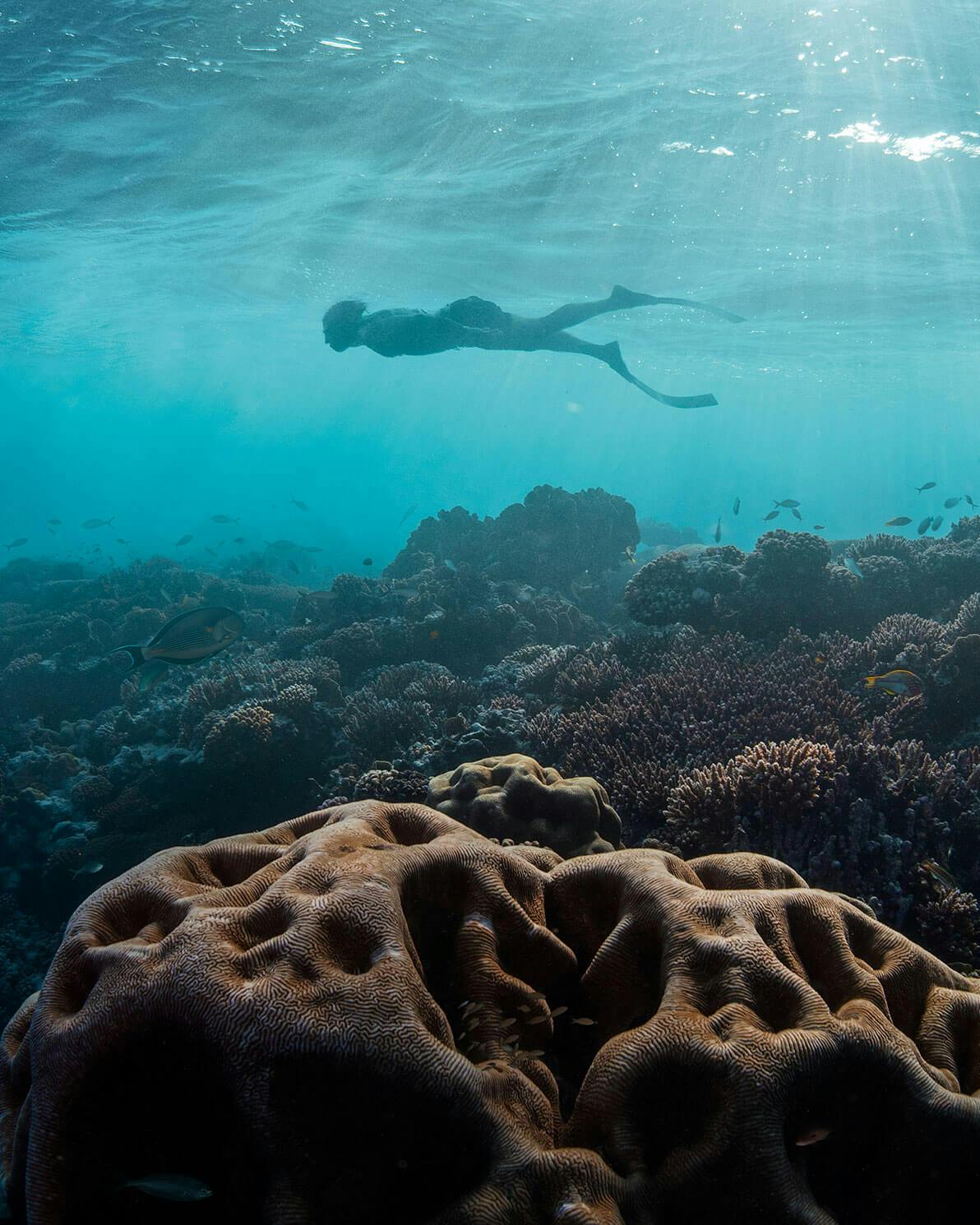 Wildlife

Dolphins, sharks, rays
UNDERWATER ECOSYSTEM
Everything has
an impact
Sustainability is a cornerstone of AMAALA, and we aim to operate with a zero-carbon footprint. We have over a dozen criteria for sustainability, covering everything from the use of a full solar energy farm to waste management and recycling.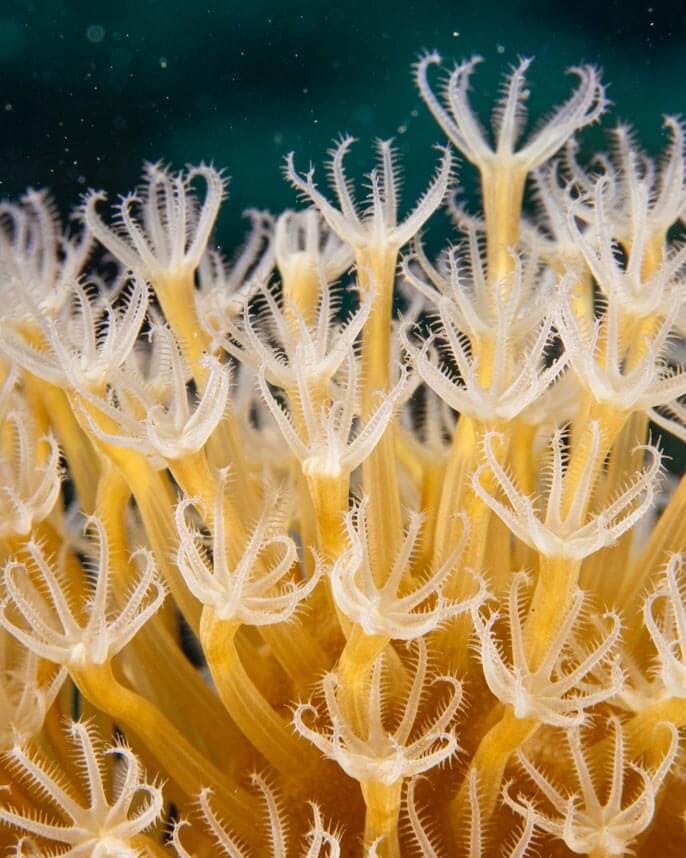 ACTIVITIES
Unparalleled experiences
With a year-round temperate climate and a rare natural ecosystem, AMAALA offers a unique destination to discover some of the world's best experiences in diving, yachting, and other recreational activities. Supported by world-class resorts, AMAALA is transformative luxury at its finest.
Eco Diving

Marine Life Institute

Snorkelling